WEDNESDAY, 1 MAY 2019
BSI Kitemark continues for FSP
Fabweld Steel Products has retained its top-level industry accreditation for one of its most innovative products. FSP has secured the prestigious British Standards Institution Kitemark for its SOLO SLIDE™ for a further three years until 2022.
The SOLO SLIDE, part of FSP's FAB PAVE™ range, is a recessed cover and frame that features a unique lifting mechanism. It is designed to be filled with material to blend in with the surrounding area and has been used in locations that demand a high quality finish including Tower Bridge and Trafalgar Square. SOLO SLIDE is manufactured in high grade mild steel to ensure stability under load and longevity, with tapered covers and a flush soffit to ensure the cover can be removed easily from the frame.
The range is made to order and configurable, up to spans of 1000mm c/o and a maximum cover width of 400mm, with infinite lengths for duct runs. SOLO SLIDE comes in standard sizes and depths but FSP's in-house design team can create non-standard sizes and depths that can be manufactured rapidly at little extra cost.
SOLO SLIDE also has BS EN 124 certification to meet European standards to A15 and B125 loads.
An A15 rating certifies it is capable of withstanding a 1.5 tonne test load, so it is suitable for use in areas where only pedestrians have access.
B125 relates to access covers and gratings capable of withstanding a 12.5 tonne test load, making SOLO SLIDE suitable for use in car parks and pedestrian areas where only occasional vehicular access is likely.
Fabweld Managing Director Richard Hilton said: "The retention of the BSI Kitemark is testament to our team's dedication in maintaining quality for our customers.
"The Kitemark is an instantly recognisable symbol that tells people, at a glance, that this is something that reaches the highest possible quality and safety standards in its field. It is especially gratifying as the SOLOSLIDE was a product that came from our own research and development."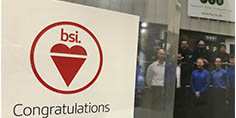 Tags:
BS EN 124 BSI Kitemark British Standards
,
WEDNESDAY, 1 MAY 2019
R&B supply Bellway Homes
R & B recently supplied two Head Wall sets to a Bellway homes site near Stafford.
Each set comprised of Safety railing c/w access gate, access ladder and hinged headwall grille.


Tags:
R&B Bellway Homes Safety railing headwall grille
,
WEDNESDAY, 1 MAY 2019
Canal Architectural showroom launches at the Business Design Centre in London
Canal is pleased to announce the launch of their new London showroom at the Business Design Centre. The showroom is designed to provide architects, designers, contractors, homeowners and end users with an innovative and inspirational space to view products and discuss projects.
The Business Design Centre showroom displays a range of bespoke staircases, balustrades, handrails and bespoke metalwork. View the latest Canal Architectural range, strongly influenced by modern stylish and functional finishes in line with the latest industry technical standards. Find inspiration in the bronze finished balustrades to the unique spiral and contemporary glass staircases featured in the showroom.
Canal is a truly bespoke architectural metalwork brand with a reputation for design and innovation. In an ever evolving marketplace where the demands of the industry continue to grow, Canal is perfectly placed to meet those demands, thanks to a combination of high standards and over 90 years of manufacturing excellence. Following substantial investment in manufacturing technology to product development, we ensure our customers receive the highest possible levels of quality and service from manufacture through to project installation.
The Business Design Centre is one of London's most popular conference and exhibition venues. The centre provides a convenient solution for everything from banquets to conferences and exhibitions. Located in the heart of Islington, 10 minutes from Kings Cross Street and only a short walk from Angel tube station. The innovative venue is host to over 300 events and 500,000 visitors per year.

Tags:
Canal Architectural metalwork
,
TUESDAY, 30 APRIL 2019
EJ and ICCWales
EJ are doing a large fabricated steel project for the ICCW, consisting of 640m continuous duct covers, which are soon to be installed at the new ICCWales, a stunning venue specifically designed for world class conventions.
The large slate and glass building will cater for over 5,000 delegates, offers 2,000 on site car parking spaces, and has bridges straight into fresh air and woodland.


Tags:
EJ ICCW duct covers fabricated steel
,
THURSDAY, 18 APRIL 2019
Southern Water asked Durey Castings to be part of their annual Developer Day
This will the 1st exhibition Durey Castings have agreed to be part of, at this stage with both Durey Castings and our sister company Flood Fortress`s growth steadily increasing, and with Southern Water being one of the main customers of our South Coast business, we felt this was an ideal opportunity to promote a good selection of our products.
Southern Water will be inviting a large number of Developers, Consultants, SLPs and local Councils from the South East region to attend
The event will be held at Brighton and Hove Albion's Amex Stadium on Tuesday 30th April 2019 from 10.00 –15.00.

Tags:
THURSDAY, 21 MARCH 2019
Access Covers Limited - flood alleviation project
Access Covers have been involved in a new £5.2 million flood alleviation project delivered by the Environment Agency.

This included the construction of a 350m long embankment up to 4m high. The project comprised of single and two tier trash screens, orifice plates and outlet headwalls complete with working platforms and handrail systems.

Tags:
Access Covers orifice plates flood alleviation
,
MONDAY, 18 MARCH 2019
New addition to flagship range unveiled by Fabweld Steel Products
Fabweld Steel Products (FSP) has added a new class of solid top access covers designed to withstand heavy weights and slow moving traffic to its flagship FAB TOP™ range.
The FAB TOP™ S10 range chequer/durbar top access covers have been design certified and load tested up to FACTA AAA, FACTA B and FACTA D*. They are functional covers, made up of a frame and solid steel durbar non-slip pattern cover, which provide access to an underground system. They are often used in service areas, dockyards, airports and other areas that have to withstand slow moving heavy traffic.
The FAB TOP™ S10 range, manufactured at FSP's Telford factory, is available off the shelf in a range of standard sizes with either a single or double neoprene seal for odour and water resistance. Bespoke sizes can be manufactured up to 1000mm span to suit any manhole chamber size.
FSP Managing Director Richard Hilton said: "We have introduced this new line in response to demand from our customers who recognise our commitment to providing a high quality long lasting access solution. Our in-house design team are available to work closely with customers to adapt the S10 range to provide a tailored solution to meet their specific needs."



March 15, 2019
Tags:
Fabweld solid top access covers S10 range
,